Not many bars have their own TV series, but the most well-known is the American sitcom Cheers, with the first episode airing on the 30th of September, 1982, and ran its final episode on the 20th of May, 1993. In total there were 275 30 minute episodes of the show, spread across eleven seasons. The show was produced by Charles Products in association with Paramount Network Television, and takes place in a bar named Cheers in Boston, Massachusetts, where a small group of locals meet to drink, relax, and socialise.
Although the show was nearly cancelled early on due to being ranked almost last in the ratings for its premiere, it went on to become a highly rated show in America, managing to earn a top-ten rating during eight out of its eleven season, including managing one season at the number one spot.
The show has even managed to create its own spin-off show, which featured the character Frasier Crane as the main character in his own show, Fraiser.
The show has a number of main characters, with perhaps the overall main character of the show being the bar's owner, Sam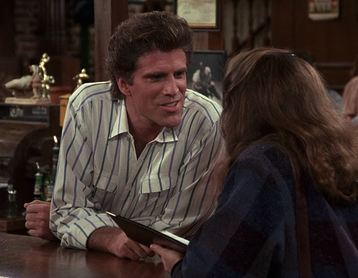 Malone, who also works as a bartender. Sam Malone is a well-known womaniser, helped by his former career as a professional baseball player, when he played for the Boston Red Sox, until alcoholism destroyed his career. Sam has a number of flings with one-off characters in the show, yet fails to maintain a serious relationship with anyone in the show.
Diane Chambers is an academic, who is studying at Boston University, and works at the bar as a cocktail waitress. She was eventually written out of the show, with her character deciding to leave Boston behind to pursue a writing career in Los Angeles, California.
Carla Tortelli, considered by many to be the comedic relief of the show, is a cynical and mocking cocktail waitress who frequently treats customers badly. Carla is inept with relationships, with her frequently disastrous relationships being a common comical story of the show.
Norm Peterson is a regular attendee of the bar, and an occasionally-employed accountant. Although the character was not intended to be a regular for the show, audiences liked the character so much that he was made a permanent character.