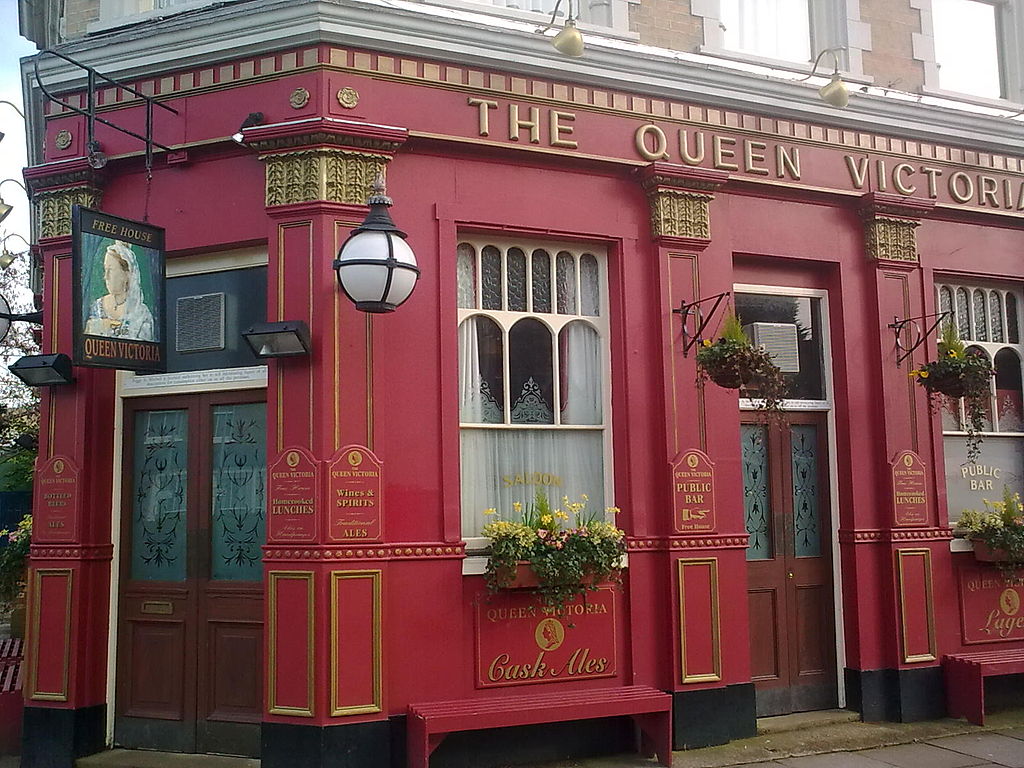 Not all famous bars and pubs around the world are places that feature real drinkers. Possibly the most well-known bar in the United Kingdom, the Queen Victoria, is in-fact a fictional pub from the TV series, EastEnders. The pub is often called The Queen Vic, or simply The Vic, and made its first appearance on television on the 19th of February in 1985. The fictional pub sits on 46 Albert Square, Walford, in London, and has had numerous owners and employees over the years.
The fictional backstory for the pub states that Albert Square was originally built around 1860, during the reign of Queen Victoria. Originally the pub was going to be named The Balmoral, but after the death of Prince Albert it was decided that the pub would be called The Queen Victoria as a tribute to the Queen in mourning.
The pub is a central part of many plotlines that take place in EastEnders, and is likely the most haunted pub in the United Kingdom, according to Inside Soap, given the number of people that had died in the pub. To-date, five characters have died on the pub premises, Den, Archie Mitchell, Bradley Branning, Tiffan
y Mitchell, and Tom Clements.
The pub has also been damaged by fire twice during the show's history, once in 1992 when character Grand Mitchell sets fire to the pub, and once again during a 2010 storyline. The 2010 storyline was an important part of the pub's redesign, as parts of the interior had to be re-done for high-definition broadcasting and the fire allowed for the redesign to happen without affecting the show's continuity.
The pub is featured in nearly every episode of EastEnders, and almost every character has had scenes take place in the pub at least once. There are many 'regulars' to the pub, with some of the more criminally minded characters making frequent use of the pub for their dealings. Aside from the fires that have consumed the pub over the years, the plotlines that directly involve the pub have often revolved around the changing owners of the pub. To-date there have been over a dozen owners, something that is quite rare for an actual pub. The current owner of the pub is Lee Carter, who has owned the pub after being able to purchase the pub back from the character Fi Browning, due to financial irregularities of the, at the time, failing pub.